New Advisory Panel
17 Apr 2012
New Advisory Panel for Actorsworkshop
Actorsworkshop has established a new advisory panel to inform its continuing progress. 
Actorsworkshop is seeking to recruit up to six participants of its weekly workshops to become members of an advisory panel for the development of Actorsworkshop's workshop services.
The advisory panel will meet three-times a year (in line with the term structure) to review workshop provision, consider initiatives and develop services on behalf of members.
Membership of the panel will be on a voluntary basis and participation of workshop members will be restricted to those taking an active part in Actorsworkshop services.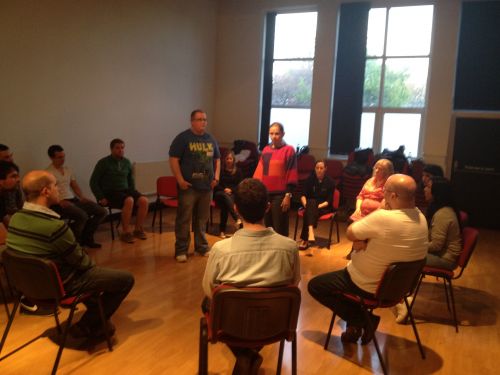 In its first 2-years the panel will be chaired by Actorsworkshop Creative Associate Gary Knowles. Actorsworkshop's Directors will be permanent members with all other panel members invited for a 2-year term (with the possibility of being re-elected for a further term) but with a maximum attendance of two terms. From time to time the panel may co-opt artists or subject specialists to guide the panels research into specific areas of interest.
To apply for a place on the panel please submit a one-page letter to the Chair of the Advisory Panel at Actorsworkshop's office address. In the letter please detail your reasons for applying and suitability for role.
David Wilson, Executive Director said "We've always listened to our members but we wanted to formally recognise the input we get from the users of the workshops. They will now take an active part in helping shape what we offer in the future".
The first meeting of the new panel will be in May this year, please get in contact with Actorsworkshop by emailing office@actorsworkshop.co.uk to register your interest or to find out more information, or click here to go to the vacancies page for details.